Here are Four Appetizing Recipes For Vegetarian Split Pea Soup that all look so delicious for a meatless version of split pea soup. 
Click to PIN Four Appetizing Recipes for Vegetarian Split Pea Soup!
Click here for The Best Instant Pot and Vegetarian and Vegan Soup Recipes!
This collection of Four Appetizing Recipes for Vegetarian Split Pea Soup features four different comforting and delicious variations of meatless split pea soup. You will love the combinations of vegetables and split peas that make these soups so hearty and soothing to eat. And we've updated this post to give you options for vegetarian split pea soup made in the  slow cooker or  the Instant Pot. Whichever cooking method you choose the result will be a creamy, thick and very tasty soup; even those meat eaters won't miss the meat in these tasty soups.
All photos are copyrighted to the site that posted the recipe. Just click the recipe name under any photo to see the complete recipe on that site.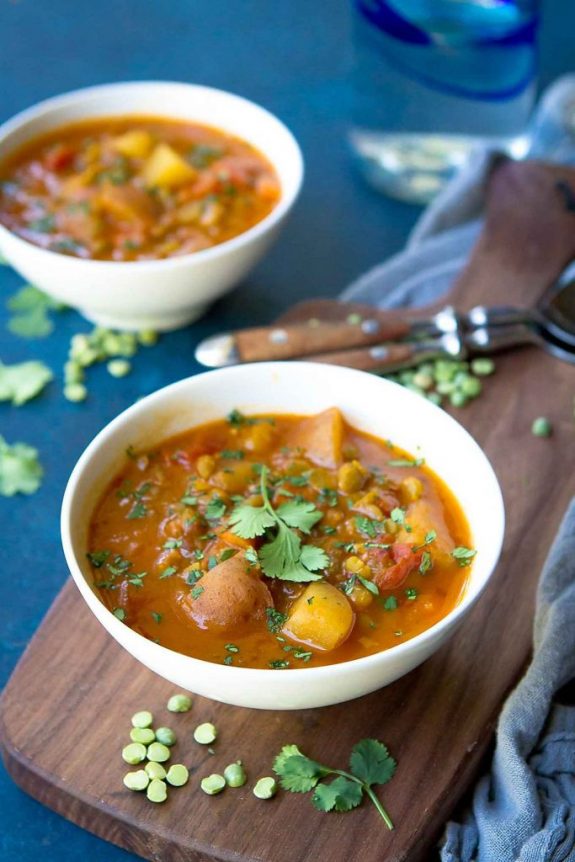 This hearty, delicious Southwestern Instant Pot Split Pea Soup with Potatoes from Cookin' Canuck will become a go-to favorite. You can't beat healthy and comforting soup!
Crock Pot Vegetarian Split Pea and Cauliflower Soup with Optional Ham Add-In from Kitchen Treaty includes cumin and a garnish of smoked paprika for a warm and smokey flavor.
Slow Cooker Split Pea Soup from Tabs and Tidbits has tons of flavor and vegetarian & vegan friendly! The slow cooker blends the flavors, delivers a tasty soup and gives you the day for doing something else plus dinner is ready when you get home.
Instant Pot Split Pea Soup from Savory Tooth can be enjoyed meatless or if you enjoy meat you can add bacon or ham. This soup is thick, creamy and delicious for a cold day!
More Tasty Vegetarian Soups in the Slow Cooker or Instant Pot:
Use the Index Page for Soup or Stew to see all the slow cooker or pressure cooker soups that have been featured on this site.
(Visited 368 times, 1 visits today)