Three Delightful Recipes for Lentil Side Dishes will give you some new side dish ideas that are nutritious, delicious, and inexpensive, and lentils are easy to cook in the slow cooker or the pressure cooker!
Click here to PIN Three Amazing Recipes for Lentil Side Dishes!
Click here to see The BEST Instant Pot Rice or Risotto Recipes!
These Three Amazing Recipes for Lentil Side Dishes will wow your family with a new and tasty comfort food dish, and lentils are one of my favorite foods so I'm featuring this for Friday Favorites today! I love lentils no matter how they're prepared, and this updated post includes recipes to cook lentils in the Instant Pot and the slow cooker.
Lentils are easy on the budget and a vegetarian source of protein, so try one of these ideas for a perfect lentil side dish made in the slow cooker or the Instant Pot! All photos are copyrighted to the site that posted the recipe. Just click the recipe name under any photo to see the complete recipe on that site.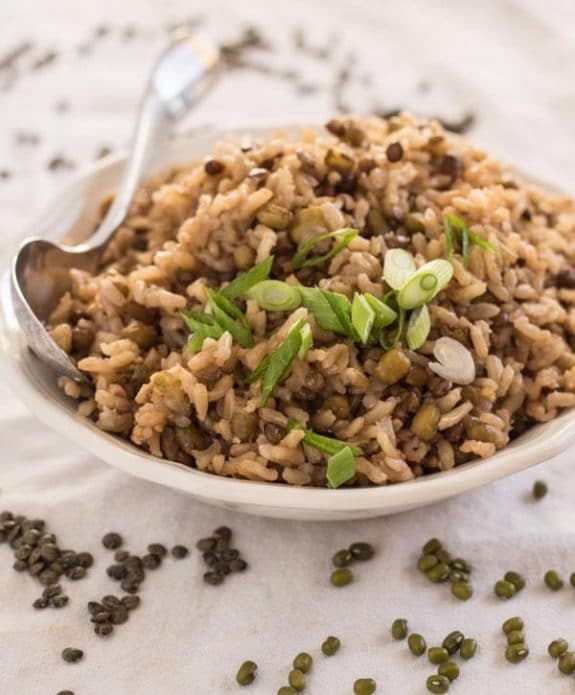 Instant Pot Lentil Very Brown Rice from Letty's Kitchen gives you the perfect combo of lentils and brown rice for complete vegetarian protein. This recipe has only 4 ingredients and is so easy to make.
Lentil and Kale Super Food Slow Cooker Recipe from A Year of Slow Cooking combines these two super foods together for a protein, iron and fiber packed side dish!
This Budget Friendly Spiced Instant Pot Lentils and Rice  from Healthy Slow Cooking fits the bill for anyone who's watching their budget! It's high in flavor and easy to make for a perfect easy side dish anytime!
More Tasty Lentils in the Slow Cooker or Instant Pot:
Use the Index Page for Beans and Legumes to see all the slow cooker or pressure cooker lentil recipes that have been featured on this site.
(Visited 1,026 times, 1 visits today)