Lentils and kale, cooked together in the slow cooker!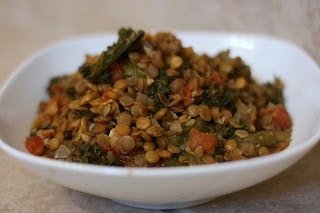 (Photo from A Year of Slow Cooking)
Anyone who follows
my other blog
will know immediately why this recipe caught my eye for a slow cooker
Meatless Monday
dish, because lentils and kale are two ingredients I love no matter how they're prepared.
Lentils and Kale Super Food
from A Year of Slow Cooking also has fire-roasted chiles, tomatoes, onions, garlic, and spices, all of which make this sound like a great combination. And Stephanie says she's been slow to warm up to kale, but she did like this (although the kids were not impressed.)
More Ideas with Lentils in the Slow Cooker:
Use the Recipe-by-Photo Index Page for Beans and Legumes to see all the slow cooker lentil recipes that have been featured on this site.
(Visited 36 times, 1 visits today)