Here are Four Fabulous Low-Carb Pot Roast Recipes, with options for making pot roast in the Slow Cooker or the Instant Pot! I think these all sound perfect for a family-friendly dinner!
PIN Four Fabulous Low-Carb Pot Roast Recipes to try one later!
Click here to see 50 AMAZING Low-Carb Instant Pot Dinners!
I do hate to mention it, but Fall has arrived and it's time to start thinking about cold-weather comfort foods! And pot roast is a favorite dinner with many families, so today I'm sharing Four Fabulous Low-Carb Pot Roast Recipes. There are beef roast dinners to make in the slow cooker or the Instant Pot, and some recipes have options for both methods.
And Low-Carb Pot Roast is a dinner that can work for the whole family. You can serve the traditional potatoes and carrots for family members who aren't watching carbs, or choose cauliflower rice, cauliflower mash, mashed turnips, or other veggies for the low-carb eaters. I think these low-carb pot roast recipes all look like a great option for a  Friday Favorites dinner, and they're perfect for Weekend Food Prep too, enjoy!
What makes Low-Carb Slow Cooker Sweet and Sour Pot Roast from Kalyn's Kitchen different from other beef pot roasts is the sauce, of course. Asian flavors like garlic, ginger, soy sauce, rice vinegar, and even anchovy paste (optional) combine with tomatoes and onion to make a delicious sauce that would be great over rice or noodles, or serve over cauliflower rice for a low-carb meal.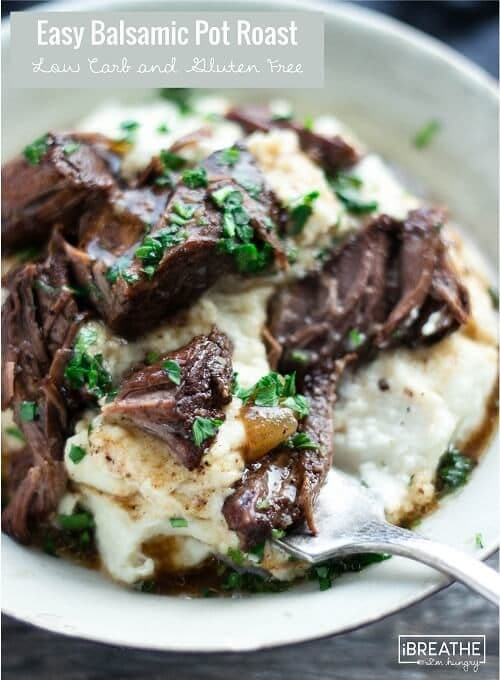 This Easy Keto Balsamic Beef Pot Roast from I Breathe I'm Hungry is served over cauliflower mash for a low-carb and Keto dinner that sounds amazing! This recipe has instructions for both the Instant Pot or stovetop cooking.
Instant Pot Low-Carb Southwestern Pot Roast from Kalyn's Kitchen is also a perfect for dinner entree served with something like Pureed Cauliflower with Garlic, Parmesan, and Goat Cheese, or shred the spicy meat apart and serve in Low-Carb tortillas or lettuce wraps for a taco dinner! This recipe also has a link to the slow cooker version of Southwestern Pot Roast; take your pick!
Slow Cooker Mississippi Pot Roast from Low-Carb Maven uses a homemade ranch seasoning and Kim serves this with mashed turnips with butter and green beans for a tasty-looking low-carb meal!
Which one of the Low-Carb Pot Roast Recipes looks best to you? Let us know in the comments if you try one!
(Visited 1,972 times, 1 visits today)