Here are 14 different options for Instant Pot Keto Pot Roast Recipes that are perfect to make for a special dinner!  
PIN the Keto Pot Roast Recipes to try one later!
Today I'm updating this collection of Keto Pot Roast Recipes to make in the Instant Pot. These are beef roast dinners that will be perfect with anyone who's watching their carbs, but these dinners will also be a hit with other carb-loving family members!
I know that big pieces of beef are more of a budget splurge than they used to be, but I bet most people who are watching their carbs would love to make one of these low-carb pot roast recipes for a special occasion! And pot roast is easy to make and always turns out tender and juicy in the Instant Pot!
What Keto Pot Roast Recipes will you find here?
This collection of low-carb pot roast dinners has a wide variety of flavor options! You'll find pot roast here with Hungarian flavors, balsamic pot roast, Mississippi roast, Southwestern flavors, spiced beef roast, Asian flavors, Latin American flavors, and mushrooms.
What to serve with pot roast for a low-carb meal:
You can serve the pot roast with traditional potatoes and carrots for family members who aren't watching carbs, or choose Twice-Baked Cauliflower, Roasted Turnips, or Easy Cheesy Baked Keto Cauliflower for those who don't want the carbs. And some of these pot roast recipes have interesting side dishes like turnips, zucchini, celery, or peppers.
How do you get the complete recipe?
Just click any recipe title to see the complete recipe on the original site. All photos are copyrighted to the blog that posted the recipe.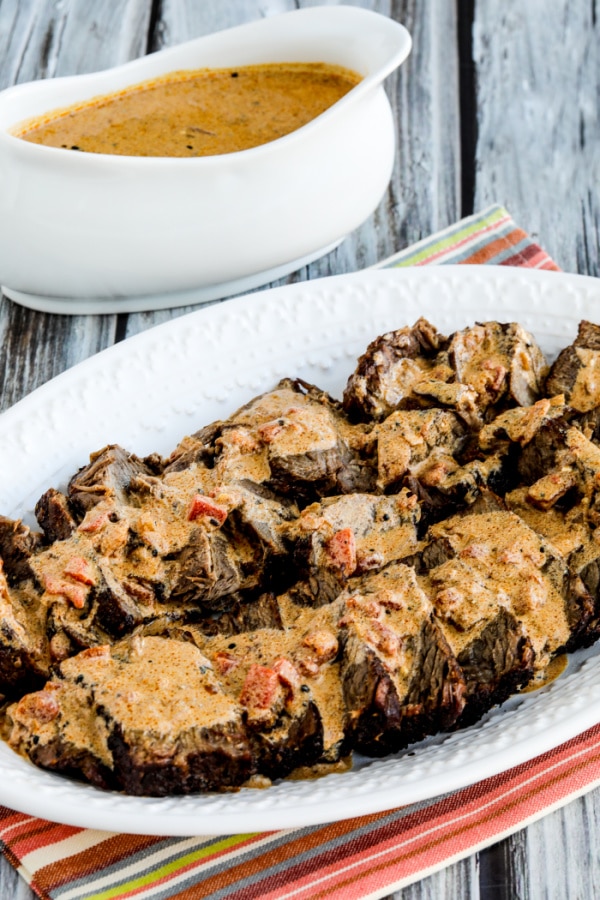 This Instant Pot Hungarian Pot Roast from Kalyn's Kitchen is one of my favorite pot roast recipes, and this is going to be a hit with people who like Hungarian flavors like paprika, sour cream, peppers, and tomatoes!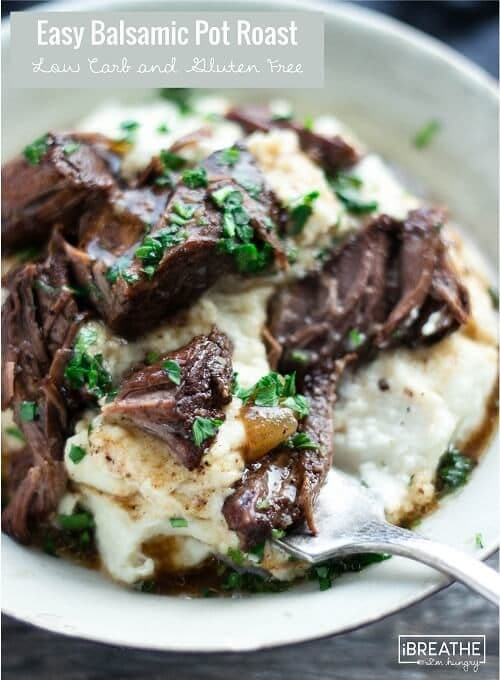 This Easy Keto Balsamic Beef Pot Roast from I Breathe I'm Hungry is served over cauliflower mash for a low-carb and Keto dinner that sounds amazing! This recipe has instructions for both the Instant Pot or stovetop cooking.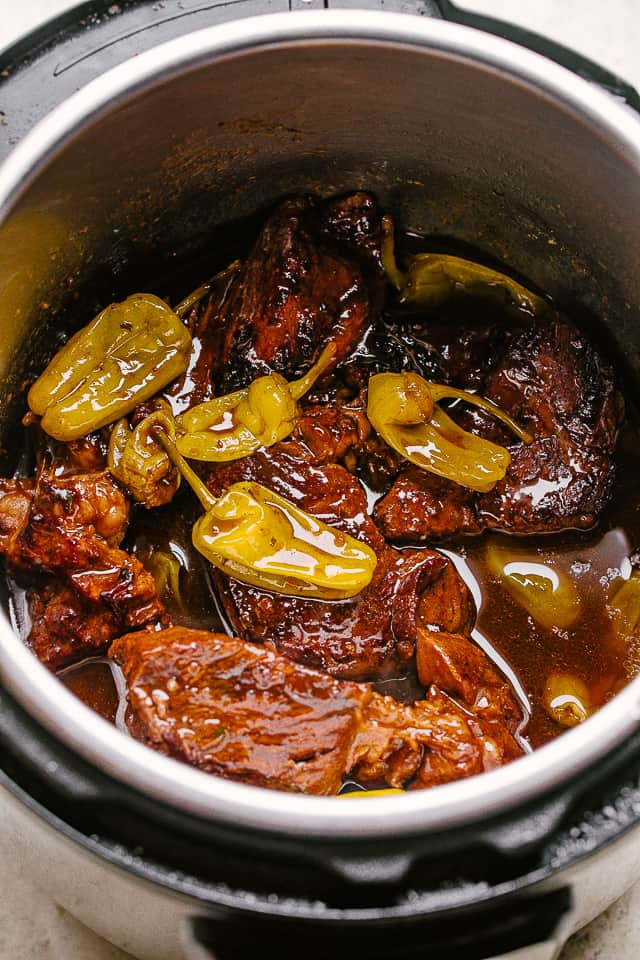 You've probably heard of the famous Mississippi Roast and I think this Instant Pot Mississippi Pot Roast from Diethood sounds perfect. Just skip the mashed potatoes shown in some of the photos if you want this to be a low-carb meal!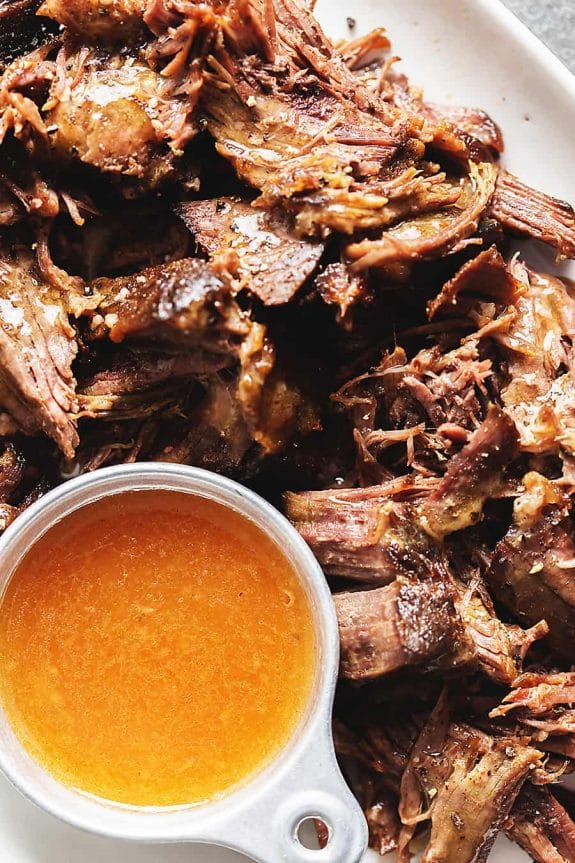 Pressure Cooker Pot Roast from Low Carb with Jennifer will produce roast beef that's fall-apart tender and it's served with the cooking liquid.
Instant Pot Southwestern Pot Roast from Kalyn's Kitchen is a perfect for dinner entree served with something like Pureed Cauliflower with Garlic, Parmesan, and Goat Cheese! And there's a link for this recipe made in the slow cooker.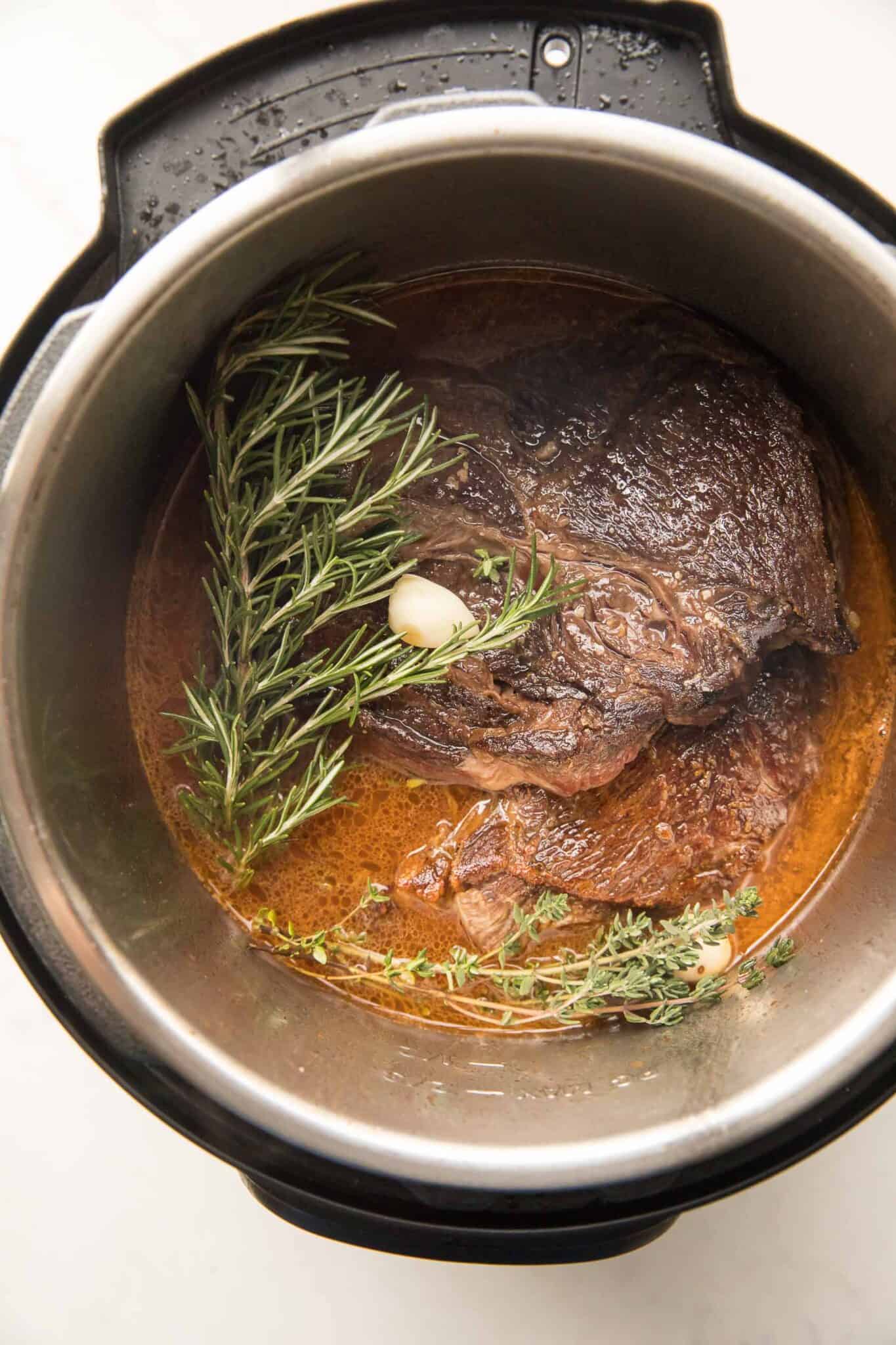 Whole 30 + Keto Instant Pot Pot Roast from Tastes Lovely serves the flavorful meat with turnips and just a few carrots to keep it low in carbs!
More Pot Roast Ideas for the Instant Pot:
Creamy Mississippi Instant Pot Roast from Recipes that Crock
Instant Pot Spiced Beef Roast from Fit Slow Cooker Queen
Instant Pot Asian Beef Pot Roast from I Breathe I'm Hungry
Instant Pot Keto Pot Roast from Joy Filled Eats
Keto Pot Roast in the Instant Pot from Ditch the Carbs
Keto Latin American Pot Roast from I Breathe I'm Hungry
Creamy Mushroom Instant Pot Pot Roast from Boulder Locavore
Low-Carb Instant Pot Pot Roast from The Keto Queens
Still Hungry for Low-Carb Dinners in the Instant Pot?
Low-Carb and Keto Instant Pot Dinners with Chicken
Low-Carb and Keto Instant Pot Dinners with Pork
Low-Carb and Keto Instant Pot Ground Beef Recipes
(Visited 4,813 times, 1 visits today)